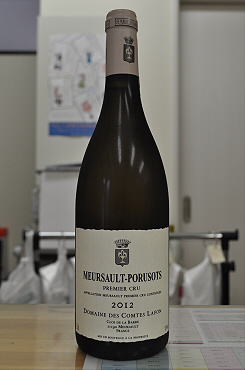 コード
21642

●コント・ラフォン ムルソー1erCruポリュゾ2012 750ml

価格
 税抜き価格 \31,000 
在庫
 完売御礼
2012 Domaine des Comtes Lafon Meursault 1er Cru Porusots
Domaine des Comtes Lafon
A Chardonnay Dry White Table wine from
France, Meursault, Cote de Beaune, Burgundy, France

eRobertParker.com #221(Oct 2015)
Reviewer:Neal Martin
Rating: 93points ←素晴らしい評価です
Drink: 2016 - 2032 ←飲み頃を迎えています
Current (Release) Cost:$159-$239
Tasted blind at the Burgundy 2012 tasting in Beaune. The 2012 Meursault 1er Cru Porusots from Domaine des Comtes-Lafon has a very succinct and subtle bouquet, beautifully defined, backwards and introspective but I think there is huge potential here. The palate is clean, fresh and poised, a hint of sour lemon on the entry but thereafter it becomes cohesive and focused with hints of white chocolate furnished the long, persistent finish. This is another excellent 2012 from Dominique Lafon.